Make huge savings with these best offers on Sonos package deals. Find the cheapest Sonos prices online… we have rounded up the latest discounts on Sonos multi-room speakers and wireless Sonos accessories to help you save money.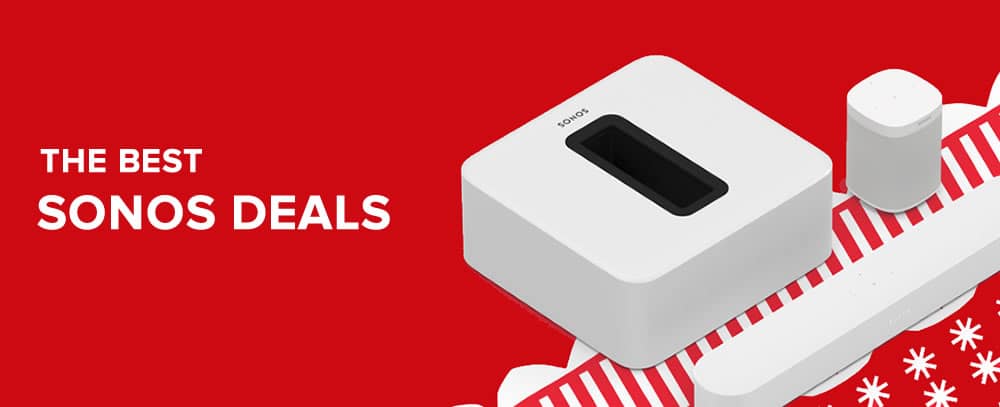 Sonos discounts are hard to discover. Sonos dealers can introduce special offers and promotions at different times of the year.
The best time to buy cheap Sonos speakers is Christmas and Easter Holidays. Even Amazon Prime day. Where you can expect to save as much as 20%!
You can also expect to see Sonos deals over bank holidays in May. Further savings can be made through purchasing Sonos bundles with combined speakers as part of a package deal. However, Sonos speaker deals can also be found throughout the year as well, depending on where you look. Keep reading below for the best offers on Sonos speakers.
Sonos One Discount
The Sonos One is rival to the new Apple Homepod. Featuring voice control with Google Assistant and Amazon Alexa built-in. So this means you can play all your favourite music, without having to waste any time launching the Sonos app. You can also make use of voice-controlled timers, alarms, shopping lists and more.
You can still use the free Sonos app to control music when browsing and setting up new music streaming services. So you might find this easier to set up, then you can start using voice-control when you're ready.
In terms of style, the Sonos One has a matte grille, unlike the PLAY:1 which has a metal style grille. These compact wireless speakers are both easy to set up and have an Ethernet port for optional wired network connections. Available in flavours of Black and White.
These compact wireless speakers both have an Ethernet port for optional wired network connections and an auto-switching power supply. The Sonos One and PLAY 1 are both just as quick and easy to set up with free delivery.
All Sonos Speakers include access to free, premium and on-demand music services. Some of the most popular music streaming services on Sonos include Google Play Music, SoundCloud and Spotify connect.
Read our full Sonos One review for more info.
---
Sonos PLAY:5 Discount
The PLAY:5 is the king of Sonos speakers and offers powerful high-fidelity sound. Since the triumphant launch of the original PLAY 5 many years ago, this model has been completely re-engineered by Sonos. The PLAY:5 has seen many upgrades including touch control.
You can expect a distinct, ultra-clear sound that will effortlessly fill large rooms. Pair two PLAY:5 speakers together and position them upright for automatic stereo sound with phased speaker array. For optimal sound delivery, you can position your wireless speakers anywhere with a PLAY 5 floor stand (sold separately). The PLAY:5 is undoubtedly the best wireless multiroom system available.
Read our full Sonos PLAY:5 review for more info.
---
Sonos SUB Discount
Enhance your listening experience with a Sonos SUB wireless subwoofer. The Sonos SUB can be paired with the Sonos PLAY:1 or PLAY:5 speakers for deep powerful sound. This wireless woofer makes a great addition to the Sonos speaker range.
The SUB makes a noticeable difference when added to your existing Sonos setup. Do you want to experience as close to 5.1 cinema sound as possible? Then consider combining your Sonos SUB with a pair of PLAY:5 rear-facing speakers and a Sonos BEAM. The sound quality will be even more impressive with this Sonos deal.
Worried about waking the neighbours? Now you can put the SUB into a special night mode so the bass does not travel through the walls. Available in gloss black or white.
Is the Sonos SUB worth it? Read our full Sonos SUB review for more info.
---
Sonos PLAYBAR Discount
Transform your standard TV speakers into rich cinematic sound with the Sonos PLAYBAR. It is time to take your TV shows, gaming, music and home entertainment to the next level.
PLAYBAR works with your existing TV remote or you can use the Sonos app for complete control. Synchronises wirelessly with two PLAY:5 speakers and two in-ceiling speakers as the surrounds, for impressive 5.1 surround sound.
To get the best deal you can purchase the PLAYBAR as part of a Sonos package. So this way, it works out cheaper than buying each wireless speaker separately. The PLAYBAR does have voice control, although a separate Amazon Alexa device is required for this functionality.
Read our full Sonos PLAYBAR review for more info.
---
Sonos PLAYBASE Discount
The award-winning Sonos PLAYBASE delivers cinema-quality sound to your living room. Completely transform your home entertainment system with house shaking bass that can be extended throughout your entire house.
The new Sonos PLAYBASE, PLAY5 and Sonos One models now support AirPlay 2 for streaming music with Apple services. This means you can easily use your iPad, iPhone or any Siri-activated device to stream music wirelessly.
The PLAYBASE is capable of producing some seriously powerful expansive sound. Take this TV soundbar to the next level with a Sonos SUB for deep rich bass.
Read our full Sonos PLAYBASE review for more info.
---
Sonos BEAM Discount
Get movie theatre quality sound in your living room. The Sonos BEAM smart compact Soundbar has Amazon Alexa voice-activated control built right in. Priced considerably cheaper than the Sonos PLAYBAR. The BEAM is a two-in-one speaker that delivers impressive sound for a home cinema experience.
Sonos BEAM is slightly smaller than the PLAYBAR but can also be used as a stand to position your TV. The special BEAM technology will push the sound wide. Which gives you the immersive sound quality that you will not get from cheaper Sonos alternatives.
Read our full Sonos BEAM review for more info.
---
Sonos Move Discount
Experience great base in the great outdoors with the Sonos Move.
A full Sonos Move review is coming soon.
---
Sonos CONNECT wireless stereo adapter
Connects to your existing WiFi network so you can stream unlimited music on your favourite home theatre speakers. Now any speaker in your home can work wirelessly with Sonos.
Not to be confused with the Sonos CONNECT:AMP. This slightly cheaper CONNECT model is a un-amplified unit designed to run with an existing amplifier. The Sonos CONNECT deal includes 2 years warranty.
Read our full Sonos CONNECT review for more info.