A gift to myself just came through the post today. The new Sony WH-1000XM4 headphones.
I had actually broken my Sony WH-1000XM3 which I had only purchased at the start of 2020. They weren't cheap when I bought them, so I was bitterly upset when they completely stopped working.
However, this was all through my own fault when moving house, and unfortunately I had dropped some heavy things on it and a crack formed on one side of the headphones which, eventually, led to its death after a couple months.
I had actually written an article on here at the start of December saying that I would NOT purchase the new Sony WH-1000XM4 headphones unless the price dropped to sub £300. This was basically due to the cost aspect as well as the WH-1000XM3 that I did have still was in working order and the difference between the two headphones was marginal in my opinion.
Then, I found a site online where I could buy it for a much cheaper price than on Amazon or directly through Sony (usually direct is the most expensive way). I was highly sceptical of the site, but the independent reviews I read were good. I did a bit of research on the site/business itself, and it all seemed legit.
Finding The Cheapest Deals Online For The Sony WH-1000XM4
For only £244 NOW £219 I was able to purchase brand new model headphones which retail at £350. I did some research online and did all of the searches on Google and Amazon to try to find the best deal. You'll even see that on TechRadar's 'The best Sony WH-1000XM4 deals, sales and prices for December 2020' page they list 'Today's best deals' which all show prices well above £300 and what I'd be willing to pay.
As you can see on the left, TechRadar's widget for 'best Sony WH-1000XM4 deals' contains prices for the new headphones way above what I paid at £244 (now £219).

Amazon selling at £349, SevenOaks – £349, and at Currys £349.

Read on, and you'll see how I saved £105 by identifying a cheaper site to buy on.
So where exactly did I get this amazing deal?
The site that I got this from is a site called 'Tech In The Basket'. Admittedly the site layout & design wasn't convincing at first, but the price for sure was and I had to give it a go. I had my fears at first that it was not legitimate.

What really triggered me to buy was the fact they had the option to pay via PayPal. If I could pay via PayPal then I'd have pretty good buyer protection in the event that I didn't receive what I ordered. I was thinking that I might get a piece of paper with the headphones printed on them for the fantastic & bargain price of £244 £219.
NOTE: I have NO affiliation with this company whatsoever and my recommendation to use them is purely based on my own purchase of these headphones via them.

I took the plunge and purchased. The headphones, in my excitement, arrived today and they were all what I had expected of them to be. Legit, original headphones from Sony via Tech In The Basket.
What was shipping like and how quickly did it arrive?
I put the order in with the 'Free Saver Shopping' option at no cost, and the headphones arrived today. The order went in on the 24th of December, so it took about 8 days to arrive or 6 business days via Royal Mail: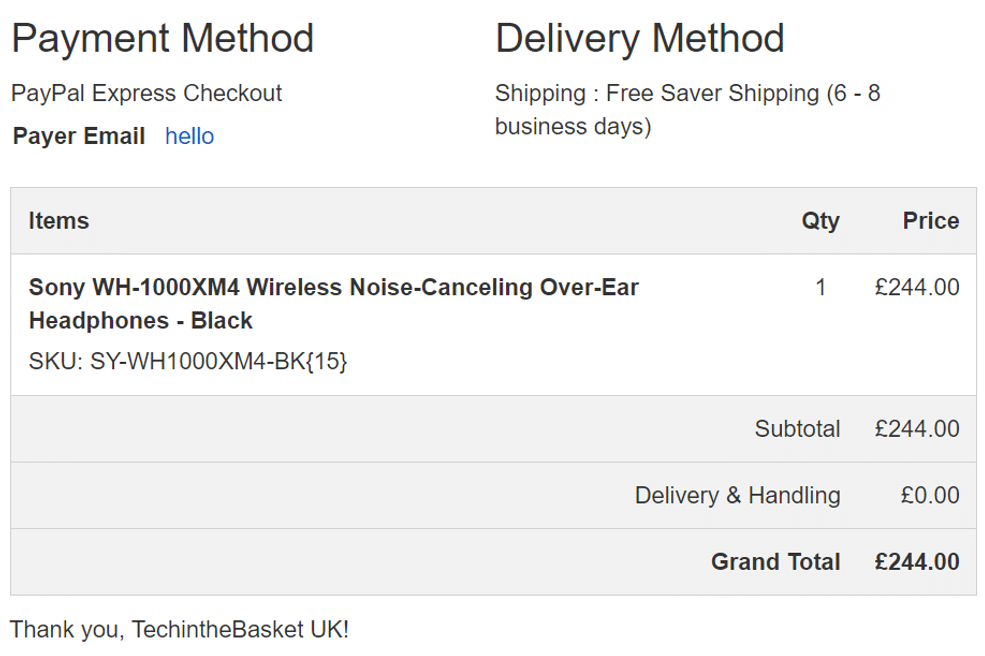 By comparison, on Amazon, you'll be paying significantly more. It pays to shop around. Currently, Amazon are selling the headphones for £278.32, whilst right now, Tech In The Basket are selling the headphones for £216.99, a £61.33 saving.
Sony WH-1000XM4
Sonos Sale

Final thoughts

It then got me thinking, despite all the major sites like Amazon, TechRadar, and Tom's Guide were all showing prices way above the price on Tech In The Basket. It pays to do further research in finding the actual best deals you can find on the internet rather than blindly following what sites are saying that have the best deal. So far, this is the cheapest site I've found for these headphones on and I'm sure they have other products too which are much, much cheaper than anywhere else too.

Update: I've just posted my unboxing video for these headphones.